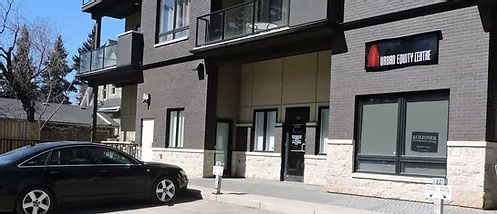 Cadence Counselling & Psychology
Address:
#101 – 1132 College Drive
Saskatoon, SK
S7N 0W2
Mobile: 306-291-0900
Office: 306-976-5411
Fax: 306-974-5415
Please be sure to park in the spots designated for Urban Equity Centre. Parking is free, but please do not park in the stalls listed as 'Private Parking'.
How to Find Us
Cadence Psychological Services office is in the Urban Equity Centre, which is at the base of the J.B. Black Estates Building on College Drive, across from the entrance to the Royal University Hospital. Parking and entrance are behind the building, accessible through the back alley.
If arriving from the west
(from the University Bridge):
Turn right on Munroe Avenue
Then immediately turn right behind the Eye Gallery office,
Then proceed to the Urban Equity Centre at the far west of the building.
If you are coming from the east (toward the University Bridge):
Turn left at Wiggins Avenue,
Then right at Elliot Street,
Then right at Munroe Avenue.
Just before the Eye Gallery, make a left turn
Then proceed to The Urban Equity Center at the far west of the building.
****IF YOU ARE NEW TO THE OFFICE, FIRST APPOINTMENT NEEDS TO BE BOOKED OVER THE PHONE****
Restrictions
No minors for the first visit.
If divorced parents with shared custody, we need consent from both parents prior to seeing the minor.
If your child is 14 years old or older, we require the child themselves to sign off on receiving therapy.
If you are a foster parent, we require the child's social worker to sign off with permission prior to the therapist seeing the child.
What to Expect
Recommended 90 minutes for first visit.
Come 5 to 10 minutes early.
Payment
We do not offer direct billing.

Payment is required at the time of visit made to the therapist.

We take credit cards, etransfer, and cash as payment options.